Good Evening!
Tonight is Night 2 in our week of inspiring guest posts focused on Body Image issues. As women we all struggle with negative thoughts and feelings towards ourselves. It's so easy to look at someone who is thinner than us, taller than us, shorter than us, curvier, more tone…..whatever your curse maybe it's time to put an end to it! I have asked some really amazing woment to share their stories this week to help inspire you, help you relate, and help us all make a positive connection. Beauty comes in all sizes, shapes, colors, and forms and it's time we all come together and start remembering that!
I'm so pleased to have tonight's guest posting on Girl Gone Healthy! I Follow her on Twitter and she is truly inspiring! A big thank you to Pamela, I appreciate your honesty and time.
Enjoy!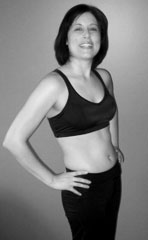 My name is Pamela Hernandez. I am 34 years old and I am a personal trainer. I live the life of a healthy and fit person. Today I weigh about 117 lbs at a height of 5'3". However, this is not the person I was about 11 years ago. 11 years ago I was an unhappy, unfit and overweight 23 year old. I had no energy, I had back pain, I was depressed and my clothing size was getting bigger and bigger. After fighting my weight for most of my life and watching my family do the same, I said enough. I made a decision to do things differently. I made the decision to start changing how I eat and to get into the gym for regular exercise. I decided to be smart and put in the work and to stop looking for the magic pill or diet that was going to get me healthy. My start wasn't perfect. No one does it perfectly at first. It was a process of making better choices every day. Each time the choices got a little bit better until I was living a different life.  I wish I could give you the exact stats for unhealthy me, me 11 years ago. I was too ashamed to step on a scale when I started my journey. I was too ashamed to take the progress photos that I take today. I know after a period of working out and eating better (maybe a month or two) I was about 140ish. I don't recall the exact number, although I may have been closer to 145ish.  I do remember how I felt and all the unhealthy habits of me 11 years ago. The me today has much different habits than that person. The me today works out 5-6 days a week, weight training and different forms of cardio. The me today likes to walk, cycle and do yoga for fun. The me today finally gave up a daily diet soda habit about 3 months ago. The me today finally got over the mental block towards running by doing my first 5K last October. The me today loves to cook. The me today is fueled by green tea, egg white omelets and oatmeal.  The me today is a very very different person than the me 11 years ago. However, the me today and the me 11 years ago share one thing. I still occasionally deal with body image issues. Sometimes, if my mood isn't good or something doesn't fit right, I still see a little of me 11 years ago in the mirror. I still see images of "the fat girl". Logically it makes no sense, I know. Yet those feelings and images of a former self are hard to let go of. I can say today I do a better job of dealing with the negative inner voice.  First, I own. I listen to it with a certain amount of detachment when a "fat thought" enters my mind. Then I sort of step back from it. I let the thought stand on its own and attack it logically. I remind myself of the facts and look for those elements I am especially proud of. I am stronger than ever! My hamstrings rock! In fact, my legs as a whole are pretty amazing. I let the positive push out the negative. From a health professional perspective, my goal is to help my clients do the same thing. Beginners get frustrated when the scale doesn't drop the way they want it to. That's why we look at more than just weight. I take body fat percentage readings, waist measurements; I ask them about how they feel, how their clothes are fitting and how they are sleeping. I tell them the scale is one number, it doesn't define you. I work to replace the negatives with positives, just like I have done with myself. I hope it helps them along on their own journey to health and fitness.
AMAZING!!!! For more on Pamela, visit: http://www.thrivepersonalfitness.com/ and Follow her on Twitter: http://twitter.com/ThriveFit
Also, check out last night's post featuring Samara Walcott-AKA The Gym Coach! 
And visit  http://nourishedkitchen.com/ecourse/?AFFID=35784 Learn how to cook REAL, HEALTHY, WHOLESOME meals from the comfort of your own home! All for less than $10 a class!
GIVEAWAY TIME!!!!
One lucky GGH reader will win a delicious 32 oz jar of Tropical Traditions Virgin Coconut Oil, just like this one!
It's so easy to win! Check it out!
1) Sign up for the Tropical Traditions E-Newsletter http://www.tropicaltraditions.com/subscribe_for_special_sales.cfm
2) Become a Fan of Tropical Tradition's Facebook Page and follow them on Twitter http://twitter.com/Troptraditions
3) Visit http://www.freecoconutrecipes.com/index.htm and choose the recipe you would cook up using your new coconut oil.
Here's the kicker though……to enter you MUST be a Fan of Girl Gone Healthy on Facebook and Following Girl Gone Healthy on Twitter! Each option above gives you 1 entry, for bonus entries Tweet about my giveaway:
I just entered to win FREE Coconut Oil from @girlgonehealthy and @troptraditions OR Make the contest your Facebook status!
Please comment on this post and tell me about ALL the ways you entered! Enter as many times as possible, open to Canada too!
Disclaimer: Tropical Traditions provided me with a free sample of this product to review, and I was under no obligation to review it if I so chose.  Nor was I under any obligation to write a positive review or sponsor a product giveaway in return for the free product.
Have a wonderful evening friends!!! Healthy Wishes!