As many of you know I'm a Group Fitness Instructor, and I teach Cardio Dance, Kick Boxing, Boot Camp, Spin….etc etc etc
But what happens when you're body doesn't get a work out from your own classes anymore? Doing numerous sets of the same routines becomes easy and you almost don't sweat when you work out…..that's when you know it's time to get someone else in the field to push you!
But you don't have to be an instructor or trainer to know when your workouts aren't getting it done anymore. If you feel like the gym is boring or easy or you've plateaued then it's time to shake things up. Yes eating right and watching portions and calories will assist you in losing weight but you need to have a solid work out to build muscle, burn fat, and help tighten everything up. Below is the routine the amazing Jenn Cameron had me run through today. This routine was tailored for me by Jenn so that she could get a sense of my strengths and weaknesses and continue to build a streamlined regimen that would boost my metabolism and help me to burn off all my un-wanted fat. Take a look!
Squats:
These were in my work out several times. I did them as an initial warm up stepping out to the side each time and then in my circuit holding weights. Warm up I did 10 stepping out with the right, then 10 with the left. During the circuit I held 4 pound weights and did 15 reps each time through the circuit. (We did the circuit 3 times through)
Inch Worms:
Start in a standing position and bend down to touch your toes. Then walk your hands out into almost a plank position and hold. Arch your back like a cat and walk your feet in towards your hands. Once they meet, walk your hands out and repeat. I did 10 of these during the warm up.
Lunges: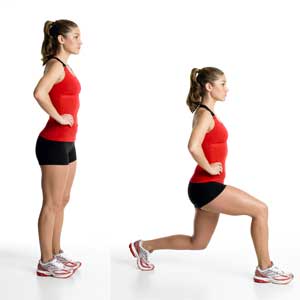 Start with feet shoulder width a part and step out with the right foot allowing the left knee to touch the ground. Then come up. Repeat stepping out with the left. I did 20 of these during the warm up, 10 on each leg.
Walking High Kicks:
Start in standing position, and kick one leg out while extending your arm forward to try and touch your toe. Continue walking, almost like Frankenstein, until you've kicked 10 times on each leg.
Dumbbell Press:
Starting with a nice heavy weight in each hand (I used 8lbs in each hand) place the weights just at your ears and press the weights upward. This is a fab tricep work out, that means that flabby part of your arm that moves when you wave….yea gone LOL. I did 3 sets of 15 in my circuit.
High Bench Step Up:
With a nice sized weight in each hand (again I had 8lbs in each hand) place right foot up on bench and using your right leg pull yourself up until your left foot meets the right. Pause and step down. 1 set is 15 step up's. Once you've completed 15 steps switch and place your left foot on the bench and repeat allowing your right to meet the left. I did 3 sets of 15 in my circuit.
Leg Curls with a Stability Ball:
These were just so fun……(sarcasm LOL) grab a ball and lie on the ground placing your ankles on the ball. Make sure your feet are together, and lift your bottom off the ground. Pull the ball with your legs rolling it towards you, and then push it back out. 1 set is 15 curls. I did 3 sets of 15 in my circuit.
Push Up's:
These are pretty self explanatory….and old school! Push ups are a total body work out if you think about it. Arms, legs, core, butt….get it tight and get it right! 1 set is 10 push up's. I did 3 sets in my circuit.
Planks:
And what training session would be complete without a good ol plank?! 1 set is a 30 second plank. I did 3 sets in my cicrcuit.
So that my friends was my training session for today! I'm training again with Ms.Jenn next Tuesday and I'm working on pull ups and upper body strength along with core. Oh and I get to play with this little gem!!!!
That my friends is the SLED!!!!! And I'm gonna push it on the turf and I can not wait!!! There will be pictures and video to go along with it!!
I hope this post helped you think of some new ways to train and I encourage all of you to contact Jenn via her Facebook!!!! She's always looking to take new clients and she also does nutritional plans!!! Even if you're not local she CAN help you! So stop by her Facebook and tell her Tera sent you!!
Jenn Cameron: https://www.facebook.com/#!/profile.php?id=1006594385
Healthy Wishes, T