Evening!
So what do me, the radio, and Heidi Klum all have in common?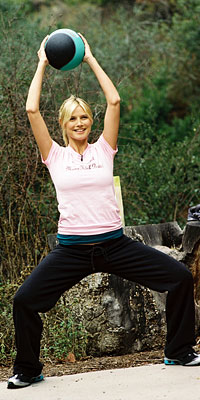 Not much other than that we both enjoy working out, and her Personal Trainer David Kirsch will be on the same radio show as me tomorrow morning!
That's right I'm going on the radio!
Tune in tomorrow at 10AM! It's Your Health Radio!
 Here's all of the info:
To listen live on web- http://itsyourhealthradio.org/  once on home page click the Orange Box that says "to live wuml 91.5 broadcast".
To Listen Live on the radio for you Bostonians: 91.5 wuml
Tune in, should be fun!
Allrighty, moving right along…..
I have received several emails in regards to lunches. Not just adult office type lunches, but school lunches too. Sooo…..
Remember as a kid when your Mom would hand you your lunch box on the way to school. No matter who you are at one time or another you knew she packed you something extra special, and it was going to be F-O-R-E-V-E-R before you could eat it. You sat there and stared at your lunch box….drooling. And if you, like me, totally LOVED your lunchbox just because it was cool it made it even worse. I had my Shera lunchbox…and oh yes I was "The Princess of Power"!
As I grew up I eventually graduated to the ever popular late 80's early 90's must have…..
Ummm yea I rocked the NKOTB lunch box! You didn't really think I would leave Joey Mac at home alone all day did you? I mean Please Don't Go Girl was for me….right?!
But it's different today isn't it. We are all to busy to make lunch for ourselves or our kids or both. We just assume give the kids a couple of dollars and send them through the school lunch line. I mean what's the harm, it's school….they're going there to learn so of course they would feed them nutritionally sound food. Well for the most part they are going to try. School's through out the USA are trying to make a conscious effort to serve healthy and nutritious food to our young ones. For instance the Elementary school in my neighborhood serves fresh, locally grown veggies and fruits daily! They also use whole wheat breads, local dairy products and promote an active lifestyle as being the way to go! YAY!
But what about those of us who like to pack a lunch for ourselves and our kids. It's nice if you have the time and are able to do so because YOU control the ingredients and the portion size. While that's a huge benefit, it can become quite easy to run out of fun, healthy, and creative foods for you and your kids to have on the go. I have listed a few quick and easy lunches below that's fun for the whole family!
Main Dish!
Sandwich –This one's a no-brainer, but try pushing the envelope, serving turkey sandwiches with lettuce or paper-thin slices of cucumber; pita instead of sliced bread; almond butter instead of peanut butter; or bananas or honey instead of jelly.
Pinwheels – Make a sandwich using flatbread. Roll it up tightly, then cut into 1-inch slices. Use a toothpick to secure them.
Leftovers – Pasta, mac 'n' cheese, or chicken on a skewer.
Bagel – Use a whole-wheat bagel with cream cheese, tomato and cucumber.
French toast strips – With maple syrup on the side for dipping (yum!).
Mozzarella or cheddar cheese cubes and cherry tomatoes on a skewer.
Veggies!
Carrot coins, celery and snap peas
Corn-on-the-cob, cut into two-inch widths
Salad (with dressing on the side, to be added at lunchtime)
Crackers with peanut butter or cheese
Vegetables with dip, such as hummus or ranch dressing
Snack mix with nuts, pumpkin seeds and sunflower seeds

Sweet Treats!
Smoothie (in a thermos)
Plain yogurt with maple syrup
Apple slices, with lemon squeezed on top
Frozen blueberries (they thaw by lunchtime)
Dried apples,mangos, peaches or nectarines
Kiwi fruit (cut off the top and provide a little spoon)
Grapes, cantaloupe and watermelon, skewered on a toothpick
Cinnamon-sugar pecans (dust the nuts with a sprinkle of cinnamon and brown sugar)
I also have several more yummy lunch options if you click the recipe box tab above!
I hope these lunch ideas help you and provide you with some yummy snacks!
I'm off to bed, must rest my voice for my interview tomorrow morning!
Sleep well friends!
I'm going to close tonight with the Girl Gone Healthy T-Shirt info!
If you'd like a Girl Gone Healthy T-Shirt please email me at: girlgonehealthy@hotmail.com with your size, the color you'd like, and how you would like to pay. You can mail a check/cash directly to me or use Pay Pal but I need to know your payment form so I can mark it on my list. I will contact you as soon as the order is placed to send payment! ALL ORDERS MUST BE IN BY NEXT MONDAY!
It will take around 2 weeks for the shirts to get to me due to the Holidays, so order ASAP!
(Again no lines!)
The sizes are Small, Medium, Large, XL and you can choose white or grey.
Pricing:
White: $10
Grey:$12
DON'T FORGET:
Cook book recipe submissions: I am starting to work on the GGH/Brain Cancer Research Cook Book again. Email me any fun, fresh, healthy recipes that you would love to have published. Your name will be next to your recipe and a portion of the sales profits will go towards GBM Brain Cancer Research in my Father In Law's name.
Friendly Reminders:
Follow Girl Gone Healthy & Fit World on Twitter and Facebook!!!!
To Follow Jordan: http://twitter.com/jordanknight
To Follow Ellen: http://twitter.com/theellenshow
To Become A Fan of Ellen on Facebook: http://www.facebook.com/home.php#/ellentv?ref=ts
To Follow GGH on Twitter: http://twitter.com/GirlGoneHealthy
To Follow Fit World on Twitter: http://twitter.com/FitWorld
To Become A Fan of GGH on Facebook: http://www.facebook.com/home.php#/pages/Girl-Gone-Healthy/96848354322?ref=ts
Amazing Grass-coupon has become available again enter HEALTHY123 at check out, only when going through the GGH site though! Click on the Amazing Grass jug to the right.
Check out www.fitworldri.com and print out your Free 3 Day Trial Pass! Tell them Girl Gone Healthy sent ya!