Today was a lazy day!
I started the day off with a yummy Tazo Chai Latte and some Mickey Mouse Clubhouse with my Zac.
So easy to make your own Chai Latte at home, follow the steps below.
-1 tea bag of your choice
-boiling water
-milk (I use Light Vanilla Soy Milk)
-Sweetener (I used 2 Splenda because that's all I had)
Pour water over tea bag, allow to steep for 2 minutes, ad milk to desired lightness and sweetener if needed. So tasty! After I was all warmed up and awake it was time for breakfast. This morning was just the perfect morning for Sugarless Pancakes! These are a favorite and so easy to make.
Sugarless Pancakes:
(This recipe makes quite a few cakes so cut in half to serve 1 or 2 people)
-2 Organic eggs
-2 cups Light Soy Milk, flavored is OK to use
-2 tsp Vanilla Extract
-2 cups Wheat Flour
-3 tsp Baking Powder
-1/2 tsp salt
Beat eggs, milk, and vanilla together. Combine remaining goodies and stir into batter, just until smooth. DO NOT over mix, some lumps are OK.
Heat non-stick skillet or pancake griddle to medium high heat and spray with butter flavored cooking spray. Ladle pancake batter onto cooking surface or into skillet and allow to cook until top of pancake is very bubbly, then flip and cook until pancake is golden and moves easily with out running.
Yummy! These make a great snack mid day too! Try spreading a little PB on one and roll it up…mmmmmmmmmmmm
Look at the pancake I made special for the hubby!
awwwwwwwwwwww mush I know LOL!
With breakfast being so filling a light lunch was definitely on the menu. I opted for a quick and easy Tuna Wrap before our shopping excursion.
Tuna Wrap:
-1 can tuna in water, drained
-1 tablespoon Dijon mustard
-2 cups fresh baby spinach roughly chopped
-pinch of cheese
-1 wrap or tortilla
Combine all goodies, except for wrap, in large bowl and mix/shake until mustard coats everything. Spread mix onto wrap/tortilla and fold over. Cut to your liking and enjoy!
Zachary's second birthday is Monday March 8th, but we are having his party on Sunday the 7th and that might as well be tomorrow! I don't do to many things half way so of course when it comes to a party….I DO IT! We are having a Mickey Mouse Clubhouse party and we went Mickey crazy today. We placed the catering order from Pizza Gourmet, placed the Mickey Mouse cake order from DeFusco's Bakery, and managed to buy more unnecessary decorations LOL. While the hubby was in a "spending" mood I managed to convince him to take the ride up to Emerald Square mall and do a little more shopping! I made out like a bandit! SALES SALES SALES everywhere! Check out my goodies!
If you shop Bath and Body Works the antibac soaps are on for $3!!!! That's a great deal! AND the regular $12 Shea Cashmere hand cream is on for $6!!! Sale is on thru tomorrow go check it out! Plus I scored 2 adorable tops from Charlotte Russe. That's definelty a new fave place to shop with my "new" body. I wasn't the only one to get some good deals the hubby and Zac made out pretty nice too ;).
All of that shopping made me HUNGRY! I have been craving carbs, like pasta carbs, which NEVER happens. Even before I started eating healthy I wasn't a big pasta eater. I happened to receive a sample of Dreamfields Pasta the other day and I thought tonight was the perfect opportunity to use it. I came up with a chicken, veggie, carbonara-ish sort of dish…..well you'll see!
Girl Gone Healthy Not-So-Carbonara, Carbonara:
-1 box Dreamfields Penne
-1 bag Morningstar Farms Chicken strips
-1/4 cup fresh Basil chopped
-2 cups fresh spinach
-2 cups asparagus chopped
-1 medium onion diced
-2 tablespoons minced garlic
-1 can tomato puree
-1 tablespoon Italian seasoning
-sprinkling of bacon bits
In large pot, boil lightly salted water and cook pasta to liking.
In large skillet combine everything but the tomato puree, and cook until veggies are soft. Remember when using MSF chicken, it's already cooked it just needs to be warmed.
Once pasta is done and drained, pour tomato puree over pasta and mix. Plate pasta and top with chicken veggie mix and bacon bits, serve hot and ENJOY!
This was sooooooooooooooooooo good! It was the perfect pasta fix! Plus when I make pasta dishes, which again is rare, I only save enough for 1 more serving for the hubby and dump the rest of the pasta. The left over chicken will be perfect over salad or wrapped in a tortilla or stuffed in a pita.
So now I shall leave you to watch a very special movie.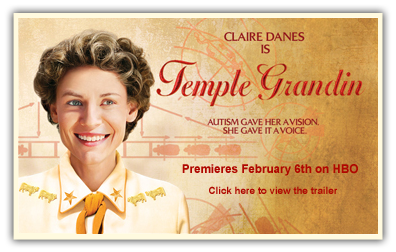 I DVR'ed it today and I can not wait to watch it! Plus, I have the honor of being interviewed by Lisa Davis of It's Your Health Radiothis coming Thursday, Feb 25th, right after Temple Grandin's mother,Eustacia Cutler. Please tune in starting at 9:50am!
I hope you all have a wonderful night, and great rest of the weekend!!!