Why is there not one thing on TV? LOL
Oh well…..
This morning I skipped out on the gym and decided to have my nails filled! I mean I did run a mile in the snow yesterday morning and do conditioning training, so it's OK right? 😉 Anyway, it was nice to have something done for ME! Plus my nail salon is across from Starbucks in Garden City…..so I snagged a Skinny Cinnamon Dolce Latte afterwards!
My Starbucks!!!
My latte!
Needless to say it was a good morning! My hubby must've sensed my need for "me" time so on his way home from the gym he grabbed us Chipotle for lunch! I always have the Vegetarian Burrito! Did you know that Chipotle uses soy based cheese making it Vegan friendly?! And I indulged in a few chips and some of their yum-o salsa!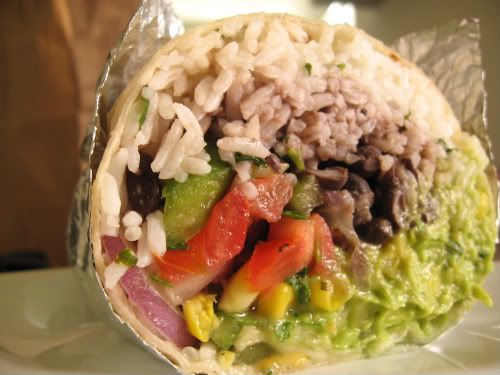 Is that yummmmmmm or what?! Plus I cut it in half so that was my dinner tonight too! In between I made a yummy snack, small bowl of Kashi w/Light Vanilla Soy Milk!
For the afternoon, Zachary had therapy and then we hit Emerald Mall in MA for some "laps". Nothing better than getting some excercise and shopping.
Pretty relaxing day…..which was just fine with me ;). Tomorrow morning I have a doctor's appointment. First one since pregnancy/Zachary's birth. I'm pretty stoked to see how my blood pressure, cholesterol etc etc look now that I've dropped weight. Then I'm going to hit the gym and do Fit and Firm in 4 weeks, Day 3. This program is the absolute best work out filler for me. I love having a plan on my cardio days now as opposed to just running.
Hope everyone has a great weekend, and please stop by http://www.firstgiving.com/zacharynorberg to donate what ever you can to help fight Autism Spectrum Disorder! You can also access Zachary's (that's my son by the way) page by clicking on the little box to the right! Even $1 will help! I encourage you to read last night's post titled "Winner" to read Zachary's story and the newest chapter in our lives.
Thanks for reading!