Happy Thursday!
So unless you've been hiding under a rock……
You are proably well aware that this Saturday is National Candy Temptation Day or in lamens terms, Halloween.
The above picture will be so much more than a picture in a couple of days. So how do you fight the urge to nibble your favorite sweet treat, my answer may just shock you but be sure to read the ENTIRE answer ;).
Go ahead, choose ONE piece and eat it. Do it before the urge gets so crazy that you can't stop, don't sit there saying "Oh Tera I can stop" to some of you…..NO YOU CAN'T! I can say that because last year we took Zachary Trick or Treating for his 1st Halloween, he was 7 months old, he couldn't eat candy…..so I ate it….ALL OF IT! So this year I will choose one delicious piece and enjoy it and toss out the rest. Should we have any left over candy from our Trick or Treaters, I will either toss it-I DON'T want it in my house. 100 pounds down and being "Girl Gone Healthy" doesn't make me immune to cravings. But I know what will happen if I don't slightly indulge in my weakness, sweets, I will BINGE GORGE go nuts. I know a lot of you reading this right now think I'm nuts for tossing the candy, saying it's money in the trash. I look at it as less time in the gym and more time with my family, that's way better than money to me. On a different level, mom's who have older children: You can't keep them from Trick or Treating or not allow them to attend the Halloween parties at school-so what to do. As for the parties at school, talk to them ahead of time let them know that if they over eat they will feel sick, ruin their teeth and hopefully you've shared with them your desire to become healthier so all of that candy isn't good for them. When it comes to Trick or Treating, allow them to collect as usual but when you get home have them choose 10 pieces to keep and toss the rest. Allow them to have 1 piece a day after school or maybe for dessert. Again I can just hear the laughter and the heads shaking, but seriously friends combating your kids obesity is so important. I wish I would've been shown proper eating techniques as a child, I probably would want to go tear into the Fun Size Snicker's sitting in my fridge right now! Even if your kid is the most athletic kid in the pack, or maybe long and lanky that doesn't mean that obesity wont sneak up on them at some point in life. Don't give it a chance, provide them with a great foundation and talk to them about your own healthy choices. There's nothing better than hearing your child say they are proud of you, make them proud to have a healthy mom/dad!
Allrighty, moving right along! Let's talk about the opposite of Chocolate….VEGGIES!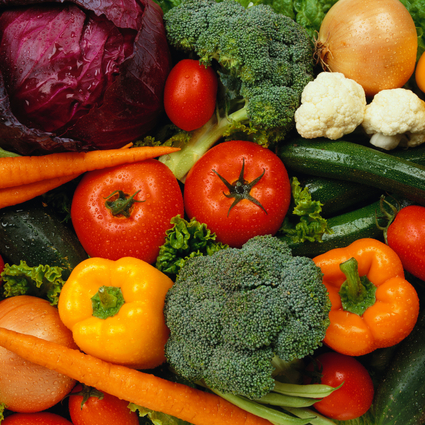 I receive so many emails in regards to hating veggies, being a fussy eater, having kids who are fussy eaters etc….
Your mom was right though, you have to eat your vegetables! We are so lucky to live in the age of technology that we do. You can find a recipe for any vegetable using any ingredients you can imagine. Start with the sweeter veggies: sweet potatoes-baked with I Can't Believe It's not Butter sprayed on top-HEAVEN; roasted eggplant with EVOO and Parmesan cheese sprinkled on top-OH YEA; roasted zucchini and yellow squash w/ ICNINB spray and Italian seasoning by Mrs.Dash- CROWD PLEASER!!! Veggies don't end an begin with plain peas and carrots friends. Red, yellow, green peppers sliced and sauteed with onions and garlic pair perfectly with a nice piece of grilled chicken or fish. Step out of they typical veggie box, don't be afraid to branch out. When it comes to the kids; be fun and creative! Plus you can hide veggies in everything! Making turkey meatloaf? Grind up some spinach and mix it into the raw turkey before you mold it, they will never know! It's all in your head….veggies aren't bad! Chances are you just had some cooked very poorly, so go out and cook them wonderfully.
I'm gonna close tonight with a little running shoe discussion: AKA what I wear LOL, and a simple statement to get you motivated out of a slump or someone you may know that's in a slump.
First, shoes! I wear Nike Dart IV 's I love them!
I wear them for cardio, classes, and even spin. However, you have to find a shoe that fits you well, is light weight and supports your ankles and the arch of your foot.
Now for my closing statement for those in a slump:
Getting up and going to work out is a CHOICE.
Running an extra minute on the tready is a CHOICE.
Eating a cheeseburger from the drive thru for lunch because you don't want to get out of the car to go in somehwere and grab a salad, wake up earlier to pack a lunch is a CHOICE.
Everything in life is a CHOICE, now will you CHOOSE to keep yourself on the couch and flip channels or will you CHOOSE to get off your butt and get healthy?!
You have the option, the freedom, and the right to CHOOSE…..now get out there an use that option, freedom, and right and CHOOSE LIFE! Your LIFE your HEALTHY LIFE! CHOOSE to LIVE!
Taking the first step is the most difficult, so don't step JUMP-You'll get farther 😉
Have a great night friends!
Please VOTE!!!
I would like to start out by Thanking each and every one of you who have voted for Girl Gone Healthy in the Wellsphere Healthy Blogger Awards. I would love to win this contest, especially being a fairly new blog on the health blog circuit. If you haven't voted yet you can do so by following this link: http://www.wellsphere.com/voteBlogger.s?bloggerId=158987  or clicking the Wellsphere Vote box to the right (in the green box).
Don't forget to check out www.fitworldri.com and print out a Free Trial Pass! Tell them Girl Gone Healthy sent ya!
Friendly Reminders:
Follow Girl Gone Healthy & Fit World on Twitter and Facebook!!!!
To Follow Jordan: http://twitter.com/jordanknight
To Follow Ellen: http://twitter.com/theellenshow
To Become A Fan of Ellen on Facebook: http://www.facebook.com/home.php#/ellentv?ref=ts
To Follow GGH on Twitter: http://twitter.com/GirlGoneHealthy
To Follow Fit World on Twitter: http://twitter.com/FitWorld
To Become A Fan of GGH on Facebook: http://www.facebook.com/home.php#/pages/Girl-Gone-Healthy/96848354322?ref=ts
Amazing Grass-coupon has become available again enter HEALTHY123 at check out, only when going through the GGH site though! Click on the Amazing Grass jug to the right.
Mix My Granola– FREE shipping! You create it, you mix it,it's all about YOU! It's so cheap and with FREE shipping why not try it! Plus, they send you a $3 off coupon with your order if you order NOW! PLUS they added TRAIL MIX!!!!!!