Good evening friends!
How are all of you kicking off Labor Day weekend? Just for fun let's do a random Labor Day fun fact!
The first Labor Day parade was sponsored by the Central Labor Union in New York City on Tuesday, Sept. 5, 1882. It included as many as ten thousand working people. After the celebration, many other states began to recognize the holiday.
That was fun yet educational.
So anyway, on to the re-cap of my super fun family day. Like I said earlier it was so gorgeous here today that an outdoor activity was a must. We love going up to Patriot Place, and Zachary enjoys it so much, we decided that would be the spot. By the time we arrived Ryan and I were starving. We both hit Fit World so hard this morning and ate super light lunches we decided a fun "snack" was in order. We stopped into Five Guys Burgers and Fries. YUM! I ordered the little cheeseburger with mushrooms, sans bun. Ryan had the regular size burger with the bun, because he can :). It was really tasty and I couldn't even finish my patty!
So after our snack we walked the entire complex and shopped of course. I picked up a cute top from Aeropostale and we bought Zachary a Patriots jersey. I'm not really happy about that as I am NOT a Patriots fan, but I'm throwing a Patriots Party at my house for the first Sunday game so he needs to be looking super cute. Of course the only jersey they had in his size was Tom Brady grrrr, and not like sexy grrrrr, grrr as in dislike. Anyway, he looks cute and I can't wait for him to sport it during the game!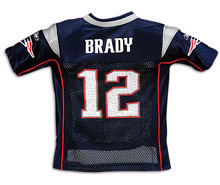 Fun day right? So now I'm just going to do some research for a few articles I have been approached to write and relax. I have to get some sleep because I have a 9AM Yoga class at Fit World! I wish you guys would come and join me or when you see me in class give me a shout! I love meeting new people especially if I can work out with them! Join me in class tomorrow for FREE by using the coupon below!!!
Go to http://www.fitworldri.com/freeTrial.html and print your coupon today!!!
I hope to see you there!
Thanks to everyone for the uplifting comments on my moment from earlier today, so awesome. Keep sending recipes and harassing Ellen!
Sweet Dreams Friends!! mmmmm White Chocolate Mousse
DON'T FORGET TO MESSAGE ELLEN ON FACEBOOK AND TWITTER!!!!!!!!!
Friendly Reminders:
Follow Girl Gone Healthy & Fit World on Twitter and Facebook!!!!
To Follow Jordan: http://twitter.com/jordanknight
To Follow Ellen: http://twitter.com/theellenshow
To Become A Fan of Ellen on Facebook: http://www.facebook.com/home.php#/ellentv?ref=ts
To Follow GGH on Twitter: http://twitter.com/GirlGoneHealthy
To Follow Fit World on Twitter: http://twitter.com/FitWorld
To Become A Fan of GGH on Facebook: http://www.facebook.com/home.php#/pages/Girl-Gone-Healthy/96848354322?ref=ts
Amazing Grass-coupon has become available again enter HEALTHY at check out, only when going through the GGH site though! Click on the Amazing Grass jug to the right.
Mix My Granola– FREE shipping! You create it, you mix it,it's all about YOU! It's so cheap and with FREE shipping why not try it! Plus, they send you a $3 off coupon with your order if you order NOW! PLUS they added TRAIL MIX!!!!!!