For some of you the drinking and  4th of July celebrating may have already begun! For others, like me, it will begin tonight. I will not only be Celebrating my Freedom to Drink but the ONE YEAR mark of Girl Gone Healthy!!!! So cheers!!!!
I think people often forget that alcohol is an enemy of healthy living/dieting. I'm not saying you can't enjoy a drink every now and then, Lord knows I do, but we have to do it in moderation and watch what we order.
In this post I'll show you some healthy options for getting your Holiday drink on! So grab your shakers and high ball glasses….It's Cocktail Time!
Bikini Blueberry– created by Cheri Loughlin, The Intoxicologist
1-1/4 ounce SKYY Infusions Pineapple Vodka
3 ounces Ocean Spray Diet Blueberry
1-1/2 ounce Club Soda – optional
Fresh Pineapple Garnish
Mojito by Weight Watchers:
Ingredients:
– 1.5 oz Bacardi Rum
– 12 fresh spearmint leaves
– 1/2 lime
– 7 oz sprite zero or club soda
– 2 tbsp. Splenda
Directions:
In a cool tall glass, muddle the mint, Splenda and lime juice. Add crushed ice. Add rum, soda and stir well. Garnish with a lime wedge and a few sprigs of mint. Serve and enjoy!
Recipe makes 1 serving
All recipes below by: Maddie Ruud
Moscow Mule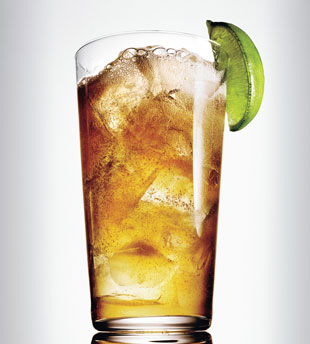 1 ½ oz vodka
5 oz diet ginger ale
juice of 1 fresh lime
handful ice cubes
Add all ingredients to cocktail shaker and mix well. Strain out ice, pouring into chilled glasses.
Gin And Tonic
(I'm a Vodka Tonic with a lime twist kinda gal 😉 )
1 ½ oz gin
5 oz diet tonic water
slice of fresh lime
glass of ice
Shake all ingredients with ice. Strain into glass of ice, garnish with lime.
Caipirinha
1 packet Splenda
1 Tbsp water
1 fresh lime
1 ½ oz white rum
glass of ice cubes
Let lime sit to room temperature. Cut into quarters, and put in cocktail shaker, along with Splenda and water. Mash lime with the back of a wooden spoon and mix until dissolved into mush. Add rum and ice cubes, shake well. Pour into glass.
Margarita
3/4 oz fresh lime juice
1 ½ oz low-calorie triple sec
2 oz tequila
slice of lime
kosher salt
glass of ice cubes
Add lime juice, triple sec, tequila, and ice to cocktail shaker. Shake well for a slow count of 10. Rub lime along outside rim of glass, then roll in kosher salt, before pouring mixed margarita into glass. Garnish with fresh slice of lime.
Long Island Iced Tea
1/3 oz vodka
1/3 oz rum
1/3 oz gin
1/3 oz tequila
3/4 oz fresh lemon juice
2 packets Splenda
2 Tbsp water
diet cola
fresh slice lemon
tall glass of ice
Dissolve Splenda in water. Add mixture to cocktail shaker, along with all liquors and lemon juice. Shake well. Pour into tall cocktail glass filled with ice, add diet cola until filled. Garnish with fresh slice of lemon.
Sangria
4 packets Splenda
4 Tbsp water
fresh orange slices
fresh lemon slices
fresh lime slices
fresh peach slices
fresh grapes
1 bottle wine
club soda
Dissolve Splenda into water. Add to pitcher, with fruit slices and grapes (white for red wine, red for white wine), and bottle of wine. Stir, then chill. Top pitcher with drizzle of club soda just before serving.
Bellini
3/4 small flute champagne
1/4 flute peach puree
Spoon peach puree in bottom of champagne flute. Fill to top with champagne.
Also, look into sugar-free, low-calorie cocktail mixes such as Baja Bob's, perfect for low-carb dieters, Weight Watchers members, or just those diet-conscious social drinkers!
And of course you all know my beer of choice is…..
Followed by…..
So friends drink healthy and responisibly! Celebrate our great nation and think of our troops as they continue to ensure our Independence!