Good Morning GGH World!
I am so pleased to be able to provide you guys with a direct link to Amazing Grass!!! You can now purchase all of your GRASS right here via GGH! Just click on the picture of Chocolate Amazing Grass to the right and it will lead you in the right direction! It is so much cheaper online than in-store, and you can take advantage of some great combo packs that they don't offer in-store!! Go shop and let me know what you come up with!
Last night's shake for dinner didn't pan out…..and that's because my hubby made me dinner! I was busy trying to finish typing up all of his English stuff, and doing recipe research for GGH that I never made it to the blender. He made me a DELISH  Trader Joe's Chile Lime Chicken Burger on an Arnold's Multi Grain flat bread w/spinach and Frank's Hot Sauce…..YUMMY! I munched happily as I worked and I was actually able to get to bed by 11:30!! That's early compared to lately!
This morning, however, I did make it to the blender in between laundry and a very hyped up Zachary :).
Here is your goodie list!
-1 packet Pomegranate Mango Infusion Amazing Meal by Amazing Grass
-1 1/2 cups Light Soy Milk Vanilla Flavor
-1 cup Fresh Baby Spinach
Blend and pour into Fave cup!!! Yummy very fruity!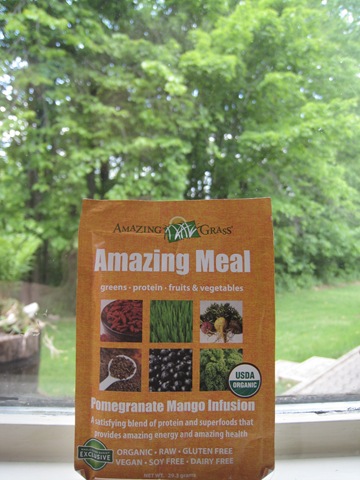 This afternoon I think we may run to the Super Walmart to check out the produce section!! They always have great prices and it is surprisingly fresh! I'll let ya know what we decide to do and fill you in on any tasty eats along the way!
Now go shop for your Amazing Grass, and as always Happy eating!!!